Sunday, 15 May
Just under a week until the election and, I have to say, it's interesting how many people are currently asking me how I am going. Truth is, I am doing well. I have been a preselected candidate now for over a year. That's been a long, arduous year so only having a week to go feels like a comparative relief.
I say this though: I have recently recovered from the campaign timed COVID I said was inevitable, am currently afflicted with multiple injuries and am exhausted. Yet after a year, we are FINALLY in the home stretch.
We are optimistic here in the Cooper Green camp. As I write, we are currently winning the "battle of the placards" in Victoria. In other words, my mug is on more people's fences than any other Greens candidate running. It feels pretty important recognising what this means, apart from the fact that I cannot take the dog for a walk without seeing myself at least thrice.
What this means is that our campaign has somehow managed to foster positivity and grassroots action. I'd be nowhere without the volunteers and, given we're a week into pre-poll, this is really apparent right now. Early on, Cooper was listed as a "target seat" in the media for the Greens yet, in reality, this entire campaign has been myself, a dedicated group of volunteers and whatever funds we can raise. We managed to raise enough to hire a field organiser and rent a space, but even our field organiser is volunteering a serious amount of hours and our campaign coordinator is exhausted.
Wednesday, 18 May
There isn't an awful lot to report. I have had a lot of fun doing media stuff these past few weeks. I am really reflecting on those because I am still feeling guilty that I have not been able to get out to pre-poll as much as I planned. My injuries can't withstand it and, to top it off, a neuroma in my foot has chosen to flare again now.
Last week, I had the pleasure of speaking to Leo Puglisi from 6 News as the poor kid was suffering from COVID. Given I did four podcasts including my Betoota Advocate one whilst still suffering from this affliction, he had my sympathies and I was in utter admiration of how incisive he remained. People say a lot of bad stuff about the media but perhaps due to my own work in that sphere, my election experiences have all been good.
Conversely, I was incredibly disappointed when a local environmental group couldn't even be bothered spelling my name correctly on their election material that read as a clear endorsement of the sitting ALP member. Apologies were received and corrections promised but, days later, I have noticed no such corrections appear. Given the Greens' environmental policies are significantly better than the ALPs, and I did my best to convey this the day after I was released from COVID isolation at a candidates' forum they held, I couldn't help but believe personal relationships trump progressive policy.
Saturday, 21 May – Election Day
Today's the day! First stop was voting at my local primary school, then moved on to visit a number of other booths around the electorate. Personal highlights include:
Westgarth Primary School having freshly made waffles available.
Some bloke singing "you are all corrupt" out the front of Thornbury Primary and myself and Senator Lidia Thorpe joining him in a rousing rendition.
Deciding to take an hour's break to go and pat my dog after a busy morning then heading off to more booths.
Meeting young Leo and his mums at Reservoir West who had been following my work for a while and having a photo taken with them.
I am now looking forward to sitting down with a pint or two and watching the night unfold with the incredible volunteer and supporter team.
Sunday, 22 May
A funny thing happened last night. I went to the pub and I couldn't speak. I simply crashed. Mum was worried about me, members of my campaign committee were worried about me, but it was like I got to the party and had nothing left to give. I went home after only managing a wave goodbye to everyone and sat alone with my dog.
Appreciating this read? Be sure to CHIP IN to help fund future articles from Green Agenda.
Today has been the same. Members of the campaign management team met up to debrief, but I couldn't connect. I know I didn't win but am not feeling disappointment over this. Just disconnection. I might come back to this in a few days.
Thursday, 26 May
Last night, after several days, I finally wrote and posted my post-election statement on my social media accounts. I will use this entry to speak for itself. This is what my post said:
It has taken me a number of days to finally be ready to write this post. I think many will appreciate that after such a long campaign filled with both trials and tribulations, but also incredible positivity, celebration and artistic expression, being able to process everything has taken a bit of time.
So we didn't win the seat of Cooper in 2022. Here's what we do know:
1. That in this incredible electorate I have called my home since 1997 – a seat that used to be the safest Labor seat in the country – we gained a swing of 6.8% first preferences at time of writing. This was the highest Greens swing in a Victorian electorate recorded and taken us to our second highest general election result ever. The seat of Cooper is once again no longer a "safe seat" that can be taken for granted;
2. That not only did we record the highest swing to the Greens, we also had the highest number of placards hosted by wonderful members of the public out of any seat in the state;
3. That hundreds of volunteers – both from within the party but also from the general public – donated their time and energy; knocking on doors, creating social media content, holding stalls, delivering leaflets, selling gig merch, handing out how to vote cards and running the campaign. This campaign was completely a grassroots, volunteer-driven, fundraised effort and my thank you list here is endless;
4. Speaking of those who donated, we couldn't have done this without you. Your generosity funded everything from our campaign office, to our field organiser, to us paying artists. You made it possible for us to achieve so incredibly much;
5. That my incredible sisters Senator Lidia Thorpe and Senator Dorinda Cox have been returned to the Senate to keep fighting the good fight, and that overall, the Greens have achieved our best result ever with our numbers growing to 12 senators and at least 3 MPs.
I would like to congratulate the sitting MP Ged Kearney on being returned to parliament to represent the people of Cooper. Whilst I, like so many of you, are ecstatic that FINALLY we have seen a change of government, I would also like to put the new ALP government on notice. The people of Cooper will not be ignored any more. We expect the ALP to not only take strong and decisive action on the climate emergency, but we also expect them to deliver a more caring and compassionate society. A society which listens to First Nations voices and heeds our calls, that does not demonise asylum seekers and imprison them for years, that ensures all people have access to quality public health care and education, that strengthens workers' rights and ensures the trend of precarious & underpaid work is reversed, and makes billionaires contribute to the public purse.
As I mentioned, there are so many people I need to thank personally for supporting me and having my back through what was a long and trying time. I have been asked already if I plan to contest again and right now, I cannot answer that question. For now, I need to return to "real life". So much was put on hold this past year, professionally and personally, and the time has come to reengage. So for now, thank you. Can't wait to see you in the queue at the Preston Market hot jam donut van again!
Saturday 4th June
I've just checked in with the tallies to see what is going on and am actually amazed to see things are still being updated, two weeks on. My first preferences swing, for example, was at +6.7%, then dipped to about 5.8%, and is now floating around +6.2% as more vote types are counted and declared. I have a cousin, Kerrynne, who run in SA as a senate candidate for a party-which-shall-not-be-named and two weeks on, she's still only listed as "ahead" for the final senate spot and wondering when the determination will be made.
I've been reflecting a lot these past two weeks, and am finding that election-wise, I still have a lot to recover from. As too do my campaign team who worked their guts out, but I am only now realising just how much of a toll running took on me. I have been articulating reasonably often, for example, my experiences of racism, sexism and patronisation I received from mainly ALP people when my candidacy was announced. Yet this behaviour, in particular the disproportionate targeting I received compared to other Greens candidates, was a feature throughout my campaign. I tried to combat this with calling-out and good humour, along with always going high whilst they were aiming low. Yet maintaining that for so long takes a toll and will be burnt out for a while.
It was all a bit raw for me when after the election, my political opponent did a reach-across-the-aisle post acknowledging the hard work and positivity of our campaign to much kudos. It may have been well-intentioned, but when there had been no previous acknowledgement of bad behaviour in ALP camps when it was known it was happening, nor had there been a Greens statement condemning this behaviour, it all rang hollow. I was left sitting there wondering what I had put myself out there for ultimately.
I do know the answer to this. The campaign volunteers had a feedback session and indicated that there were two main reasons they had volunteered: because it was me running and because they wanted to support the agenda to drive Australian politics leftward. We got four times as many volunteers than we thought we'd get so clearly many were activated to take a stand. We had the biggest Greens swing in the state and it happened in a safe Labor seat with a popular sitting member, so many voters were inspired by the possibility of change. All around me, I was surrounded by people who wanted a more humane and sustainable future, and that's spectacular to know. Do I think that change is possible myself, following this experience? I really don't know. I'm inspired by the results I saw in QLD and how proper grassroots organising can create action but I don't know that I am personally inspired enough to put myself up again. On being asked if I will consider rerunning, the current answer is "no". I truly believe that answer is reflective of the toll it can take on an Aboriginal woman who has been combatting racism and sexism on the left for far too long. I am also yet to be convinced that Parliament House is a place where true change can happen and political parties are ready to rise to the challenge of dealing with their structures of privilege. I'm a "never say never" type though. Let's see where I'm at in three years.
If you appreciated the read, be sure to CHIP IN, even as little as $5, to help fund future articles.
---
About the author: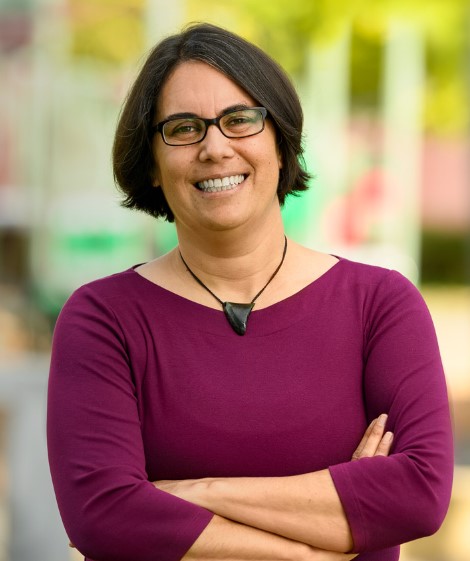 Celeste Liddle (born 1978) is an Indigenous feminist (Arrernte), unionist, and writer who lives in Melbourne, Australia. Having first risen to prominence via her personal blog, Rantings of an Aboriginal Feminist, Liddle has written opinion and commentary for several media publications and anthologies. Liddle hosted the IndigenousX program from 19 June 2015.
Liddle has been a regular columnist for Eureka Street since 2017, having written her first opinion piece for them two years earlier. She has also been a columnist and featured writer for Daily Life, The Saturday Paper, and The Guardian.